To advertise your book or freelance service, you need to create an advertisement. You can do this by going to your ad manager (under "My Ads" in your account, click "Manage Ads"). Once your on this page, click "Create Ad."
---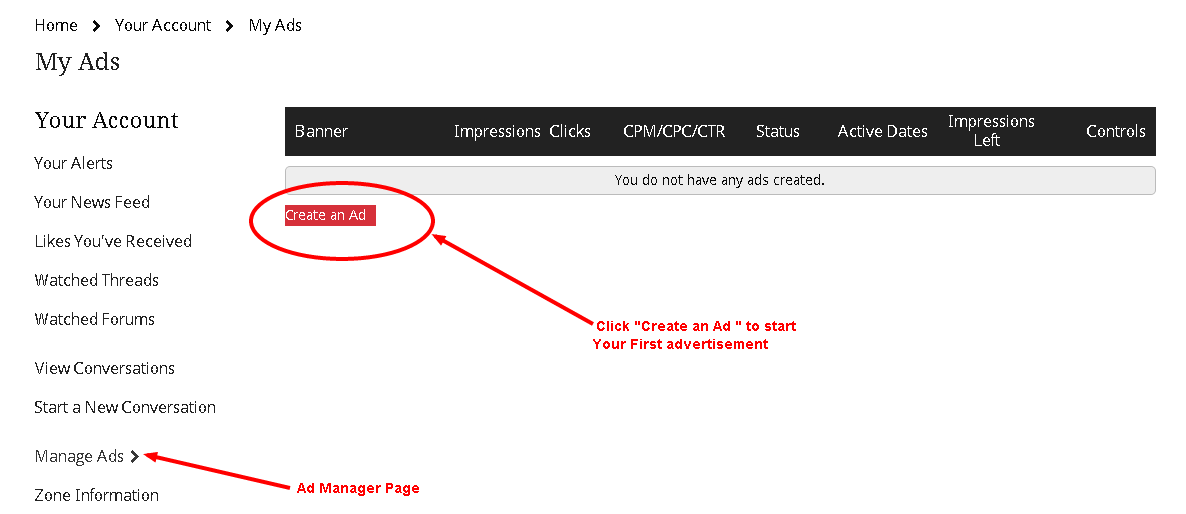 ---
drop-down will show you how many slots are free, and when the next banner will expire, leaving the spot available for purchase.

Under Image, click "Choose File" and upload your banner for your advertisement. Some ad locations have specific banner image sizes. You might not be able to upload a banner unless it fits the proper ad size. More on this here.

Text is simply the title of the advertisement for you, as it will appear in your ad manager. The target URL is where the banner will point - where users will go once it's clicked. Make sure this is right. You can use a tracking URL to gather your own statistics if you wish; however, the ad manager also [does this for you]. Click "Save."

---
Your banner ad is now created. However, it is not active because it is not paid for, or approved. You can create ads up to this point for future dates, and leave them unactivated until ready.
To activate your ad, click "Activate." You also have the option to Edit or Delete your ad. You can create multiple ads and run them at the same time. When you activate, you'll have different options for duration. Choose the price and length that you design.

---
---
The last step before your advertisement is live is that it must be approved by site administration. Once it does, you'll see it active in your ad manager.